尽管加密货币价格出现波动——或者正因为其持续的波动性和不确定性 ——全球监管当局继续监控加密货币资产并发出有关金融稳定性和银行业风险的警告。
  巴塞尔银行监管委员会(BCBS)在3月13日的一份声明中表示,作为一个缺乏标准化、不稳定和不成熟的资产类别,加密资产 "给银行带来了许多风险,包括流动性风险、信用风险、操作风险(包括欺诈和网络风险),洗钱和恐怖主义融资风险,以及法律和声誉风险。"
  作为对银行行长们一系列关于加密货币是否满足货币定义对话的回应,该声明称加密货币"无法可靠地提供货币的标准功能,且作为交易媒介和价值储藏方式是不安全的。"
  金融稳定委员会(FSB)与BCBS一样,是瑞士巴塞尔国际清算银行(BIS)综合体的一部分。FSB于2018年7月发布了一份报告,提出了一个监控加密资产市场的框架。另一份报告则于10月份出台,点明对未来金融稳定能产生影响的潜在渠道。
  2019年4月5日,FSB发布了一份目录,列出了包括8家美国机构在内的全球近100家监管机构,负责监管加密资产活动。该目录被称为"FSB和加密资产标准制定机构正在进行的工作的一部分"。
  1、"潜在的监管漏洞"
  Crypto‐assets were mentioned in an April 4 letter to G‐20 finance ministers and central bankers from FSB chair Randal K. Quarles, who is also Federal Reserve vice chair for supervision, on the stability board's current agenda:
  "The FSB continues to monitor the financial stability implications of crypto‐assets and is currently working to identify possible regulatory gaps in this area," Quarles wrote. "In addition, we are analyzing broader financial stability implications of technological innovation, such as the entry of large technology firms into finance and the growth in decentralized financial technologies."
  He said that for the G-20 meeting in June, "the FSB will deliver a report on the financial stability implications of decentralized financial technologies for the governance of financial regulation."
  2、银行观点
  Aaron Bridgers, head of risk testing analytics and automation, and deputy head of model risk management and validation, at Regions Bank of Birmingham, Alabama, has been watching closely. He attributes the BIS‐level interest in crypto‐assets to their valuations. Bitcoin, for example, was worth less than $1,000 over the first eight years of its existence, until early 2017. It soared to more than $17,000 by the end of that year, then plummeted below $4,000 over the next year, before a recent comeback. There have been thousands of so‐called initial coin offerings (ICOs) over the past few years by both new and established entities.
  Bridgers said trading volumes in the billions on some crypto exchanges caught the attention of the traditional banking system. Banco Santander, for one, is offering crypto‐asset-related services, and JPMorgan Chase & Co. has launched the JPM Coin digital token.
  Tom Kimner, director of global risk marketing and operations at SAS, said the increase in the supply of crypto‐assets and coins has prompted regulators to consider how they are going to determine and evaluate their supply and flow. "As more cryptocurrency is pushed into the markets, they'll need to look at systemic risk increases," Kimner said.
  3、专业知识
  In terms of due diligence, the BCBS statement says that before acquiring exposures to crypto‐assets or providing related services, banks should conduct comprehensive analyses of the potential risks and ensure they have the "relevant and requisite technical expertise to adequately assess the risks."
  Bridgers noted that no U.S. bank currently provides direct access to the crypto‐asset markets, and most have stopped allowing the assets to be purchased with bank-issued credit cards. Nevertheless, banks can acquire companies that provide access to or issue crypto‐assets, or they can partner, as Banco Santander did with Ripple in facilitating cross-border payments.
  Kimner said that the necessary expertise changes depending on the part of the value chain in question. Creating and mining crypto‐assets requires more advanced technical expertise, while pricing and valuing the assets calls for a strong financial background, even including financial engineering.
  4、不断变化的风险
  Bridgers said that as crypto‐assets are quickly evolving, so, too, are their range of risks, which include:
  — Technology's impact on valuations. Traditional or fiat currencies are supported by nation-states and are independent of any technology used to facilitate them. Crypto‐asset values are closely tied to their technologies and market-participant consensus.
  — Crypto‐assets' transfer risk. The assets can become locked up and their values inaccessible if keys to open digital wallets are lost. Best practices have yet to be established for inheriting or passing on crypto‐assets.
  — Consensus attacks. Crypto‐assets are vulnerable to attacks by malign parties, potentially nation-states, that control at least 51% of the nodes providing distributed‐ledger consensus. Thinly traded crypto‐assets are especially vulnerable.
  — Compliance risk. The anonymity of participants in a crypto‐asset network complicate compliance with know-your-customer and anti‐money‐laundering rules.
  — Obsolescence risk.Rapidly improving methods to provide consensus will force existing crypto‐assets to adapt quickly or be replaced.
  — Emergent risks –Unforeseen risks can arise in a new asset class, as in a 2017 exploit of security vulnerabilities that led to the theft of $32 million of Ethereum.
  5、整合风险流程
  On the risk management front, and given the crypto markets' anonymity and limited regulatory oversight, BCBS said banks' risk frameworks should be "fully integrated into the overall risk management processes, including those related to anti‐money‐laundering and combating the financing of terrorism and the evasion of sanctions, and heightened fraud monitoring."
  Traditional frameworks may be too highly focused and insufficiently robust to adapt to the unique risks of crypto‐assets, Bridgers cautioned. He recommended a framework applying cross‐functional experience, leveraging across technology, cybersecurity, economics, commodities, legal, and compliance.
  6、内部透明度
  Given the array of new risks, and even the uncertainty about whether crypto‐assets will persist, boards of directors must be informed as soon as a financial institution begins to examine the business, Kimner said: "Financial institutions need to have complete internal transparency throughout the ranks of management, including the board."
  The BCBS says: "A bank should publicly disclose any material crypto‐asset exposures or related services as part of its regular financial disclosures and specify the accounting treatment for such exposures, consistent with domestic laws and regulations."
  7、术语和术语表
  The FSB appended to its October 2018 report on stability implications a one‐page, "non-exhaustive" list of terms and definitions, ranging from blockchain to digital token to mining. A Global Crypto‐asset Regulatory Landscape Study published April 16 by the Cambridge Centre for Alternative Finance (CCAF) at University of Cambridge Judge Business School in the U.K. finds that the lack of standard terminology around crypto‐assets and blockchain has been a "major impediment" to clear and consistent policies.
  (The FSB definition of crypto‐asset: "a type of private asset that depends primarily on cryptography and distributed ledger or similar technology as part of their perceived or inherent value.")
  The CCAF, which closely analyzed 23 jurisdictions, points out that the term "virtual currency" has been used most frequently in official documents, while often interchangeably with "cryptocurrency" and "digital currency."
学金融找金程,对于FRM有疑问可拨打400-700-9596免费咨询老师。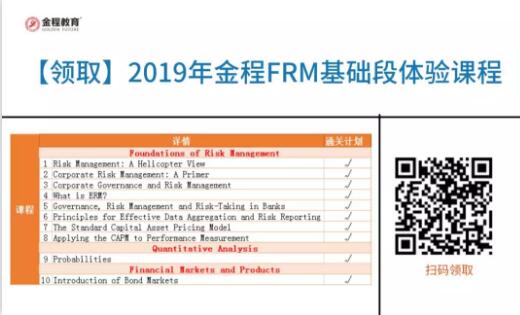 相关推荐:FRM报名 FRM是什么考试 FRM成绩 FRM考点
2019年FRM备考群 835405115 FRM资讯&资料随时分享,与众多FRM持证人交流考试经验。